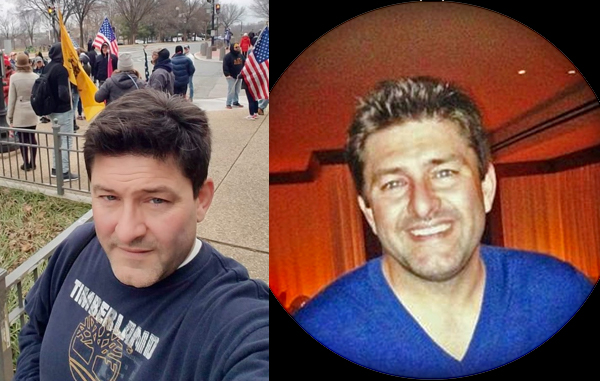 The Allentown School Board zoom meeting this past Thursday night saw parents, students, and community activists speak out in fierce opposition to the reinstatement of confirmed J6 "Stop the Steal" attendee Jason Moorehead, a teacher at Raub Middle School. While the overwhelming majority of speakers opposed Moorehead's return to Allentown schools, there were a few community members who spoke in favor of the Social Studies teacher.
Among them was Jason Jenkins, a disgraced Allentown lawyer whose license was suspended in 2012 for stealing money from his clients. During the public comment segment of the school board meeting, Jenkins claimed he was with Jason Moorehead in DC on January 6th. A direct quote: "I was with Jason Moorehead on January 6th so I know he never went within a mile of the Capitol building. And this is an easily verifiable fact." Jenkins argued that he and Moorehead were nowhere near the violence at the Capitol building that day.
Jason Jenkins' comments at the February 11th School Board Meeting are interesting, because they conflict with the comments Jenkins made on his Instagram on January 7th (the day after the J6 Capitol Riot).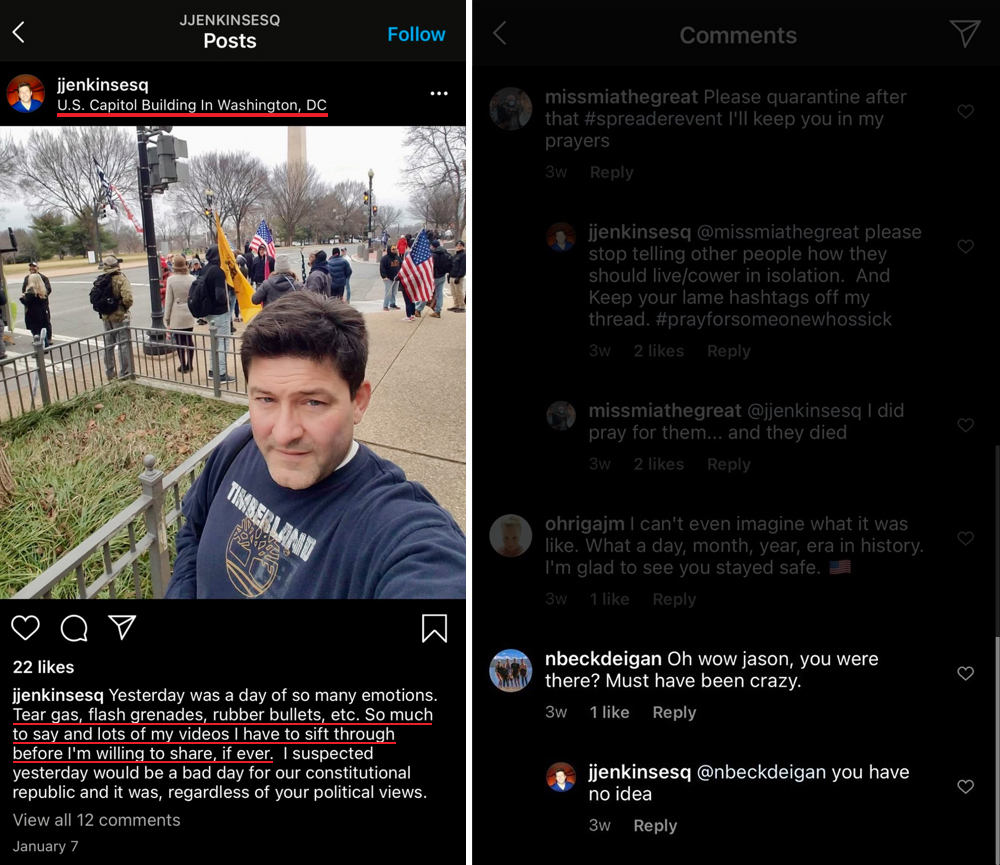 To be clear, Moorehead's choice to attend the J6 "Stop the Steal" rally-turned-riot is reason enough for him to never teach a student ever again. So any other details are besides the point. That said, Jason Jenkins' Instagram comments cast serious doubt on Moorehead's public accounting of his actions in DC that day.
First and foremost — if Jenkins and Moorehead never got within a mile of the Capitol building, why did Jenkins geolocate his post to "U.S. Capitol Building in Washington, DC"? And if they were never within a mile of the Capitol building, then why would Jenkins post to his Instagram page on January 7th — the day after the riot — "Tear gas, flash grenades, rubber bullets, etc. So much to say and lots of my videos I have to sift through before I'm willing to share, if ever." In the comments section below Jenkins' photo, a user posted "Oh wow jason, you were there? Must have been crazy." to which Jenkins replied "you have no idea," further inferring that Jenkins and Moorehead were close to violence while in DC.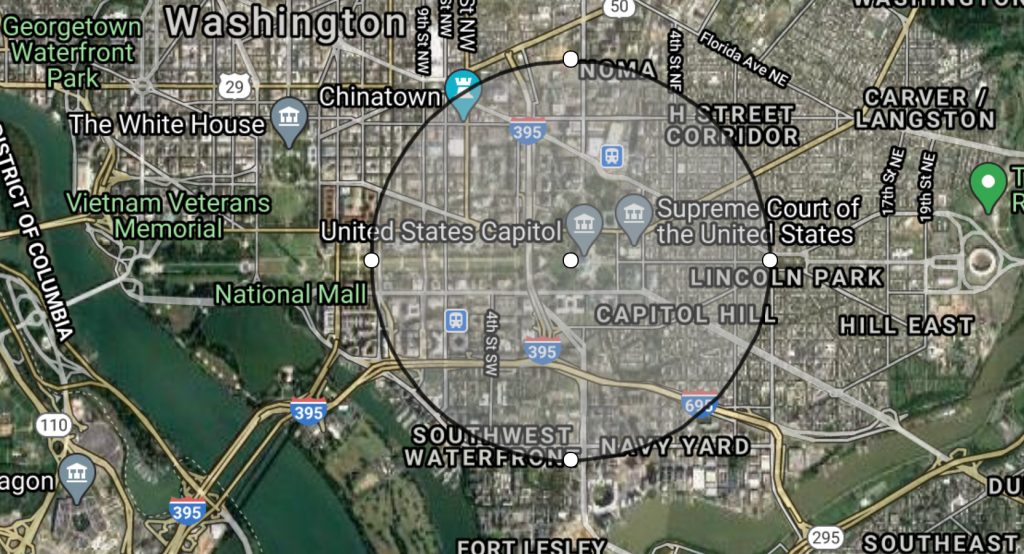 You don't see flash grenades or rubber bullets from a mile away. In fact, there is no place in Washington, DC one mile away from the Capitol building where one can see anything save the dome. Jenkins' geolocation, in addition to his comments, imply heavily that he and Jason Moorehead were far closer to the Capitol building than they claim. And what is even more suspect — Jenkins claims to be sitting on video from the January 6th "Stop the Steal" rally-turned-riot that he will likely never share.
Later in his public comment, Jason Jenkins condemned the Allentown School Board for not contacting him as part of their investigation into Moorehead:
"Not one person from the district has so much as called me, given me a text, an e-mail, nothing. Nor the other four people that were with Jason that day. None of us. We were willing to sign a verification or affidavit under penalty of perjury, that Jason would affirm his actions and his whereabouts. Nobody has asked us to do so."
Considering Jenkins' history stealing money from his clients, and the subsequent suspension of his license to practice law in Pennsylvania — is he really a reliable eye witness to Jason Moorehead's actions? Given his multiple, conflicting accounts about his experience in DC on J6, we can only conclude that his statements are not to be trusted.
Jason Jenkins attempted to advocate for his friend at the Allentown School Board meeting. But he ended up further implicating Jason Moorehead. Jason Jenkins can't get his story straight, and any comments he makes at School Board Meetings past, present, and future, can only be understood as unreliable. Given Jason Jenkins' public admission that he traveled to DC in support of the fascist "Stop the Steal" rally with Jason Moorehead and four of their associates — in the interest of community safety — we have compiled this article, as well as the information below.
More information:
Name: Jason Anthony Jenkins
Address: 2121 W Greenleaf St. Allentown, PA 18104
Phone: (610) 439-0865
Email: jjenkinsesq@aol.com
Instagram: https://www.instagram.com/jjenkinsesq/
Image that originally alerted the Allentown School District to Jason Moorehead's attendance at J6: