Amie Eckert Charged with Harassment & Disorderly Conduct at October 2020 Pro-Trump Event She Organized in Easton
Amie Eckert is a Bangor, PA resident and Lehigh Valley Tea Party (LVTP) member who — over the course of 2020 — became increasingly active in organizing for the MAGA and Patriot movements in the Lehigh Valley. She also exported her far-right organizing, going as far as arranging a bus charter and transporting dozens of Lehigh Valley residents to the January 6th fascist coup attempt at the US Capitol Building.
Amie was a regular participant at local "pro-Trump flag rallies" leading up to the 2020 US Presidential Election. She was so active, in fact, that she quickly began organizing more flag rallies herself. Take, for example, this event that took place in Easton on October 30th, 2020.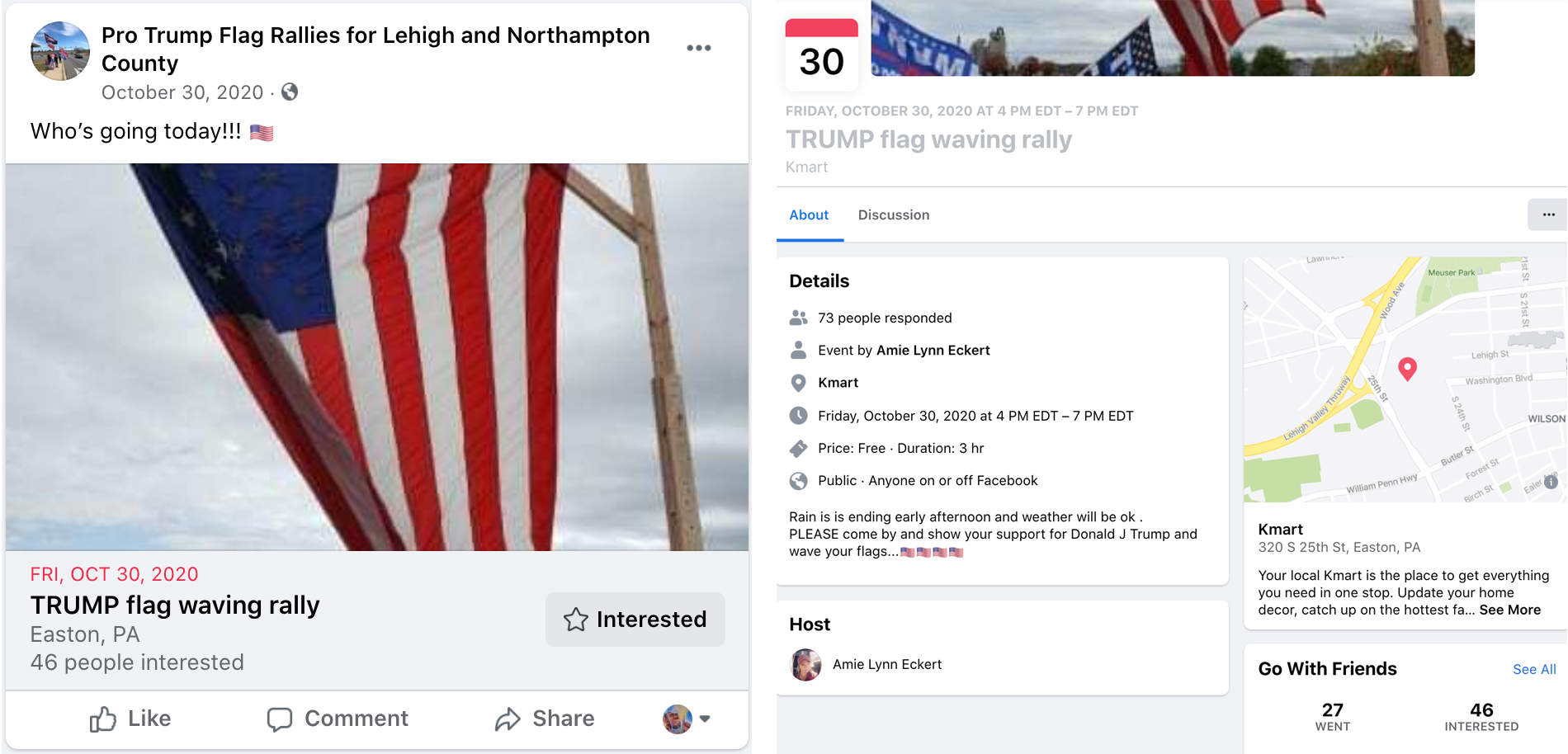 At this particular event, Amie was charged by Palmer Township Police for harassment and disorderly conduct. Of course, she lawyered up, hiring LVTP Chairman Tom Caroll as attorney. If the name Tom Caroll sounds familiar, it may be because he was forced to resign from his position as Assistant District Attorney for Northampton County after a he engaged in a racist prank against a black colleague.
Caroll succeeded in convincing the court to drop Amie Eckert's charges. But the fact that charges were laid against Eckert in the first place speaks to her willingness to engage in elevated confrontation with political opponents far beyond passionate dialogue.
Amie Eckert Chartered Buses from Lehigh Valley to the November 14th & December 12th "Million MAGA Rallies" in Washington, DC
Amie Eckert's far-right organizing extends well beyond the Lehigh Valley. Eckert organized bus trips to both the November and December "Million MAGA Rallies" in Washington, DC. Both of these events were covered widely in the media due to the extreme violence and mass intimidation that far-right street brawlers carried out on DC residents and anti-racist activists.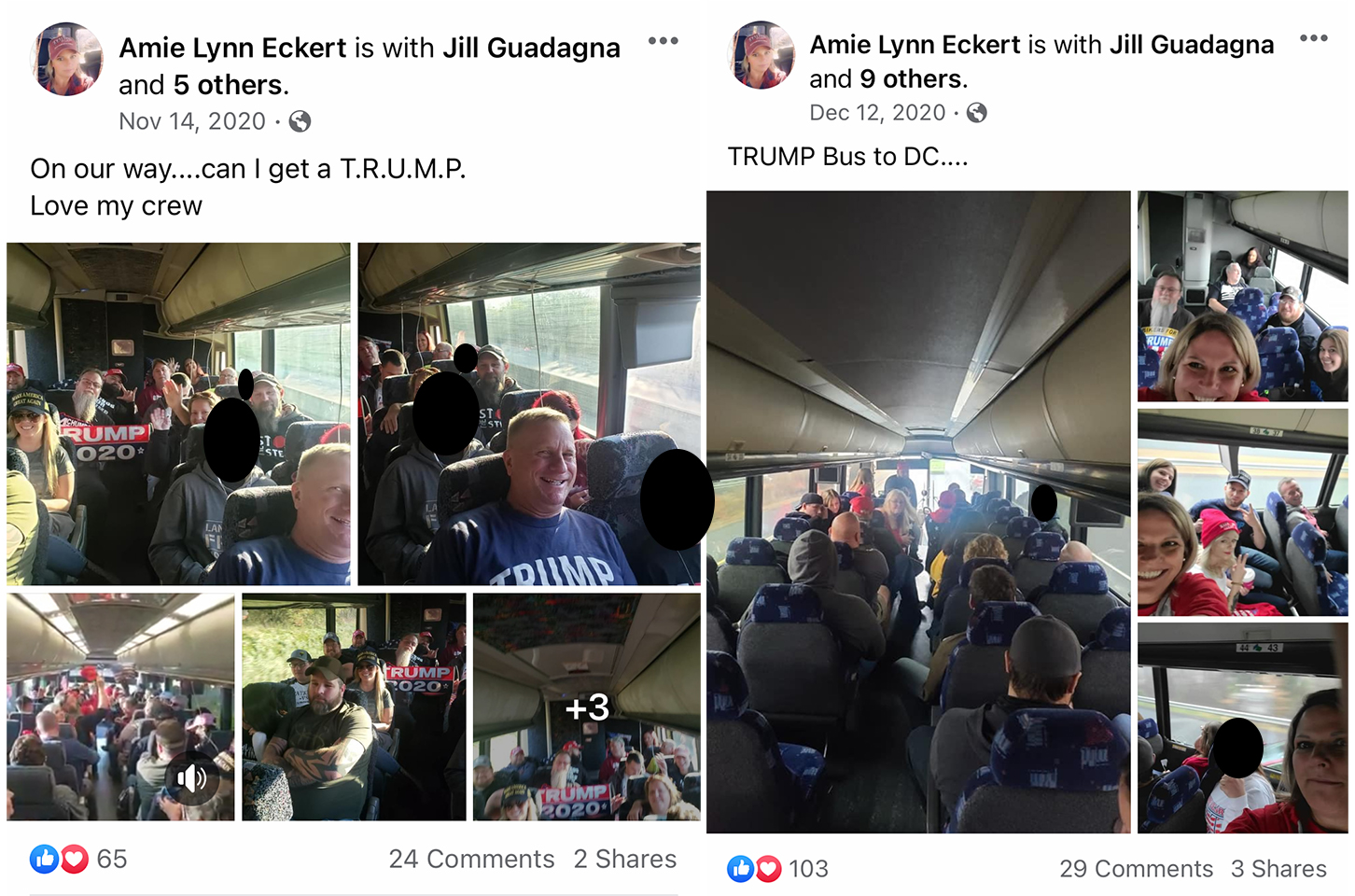 In the weeks leading up to both of these events, activists in DC raised alarm bells and implored white liberals to acknowledge and respond to this burgeoning campaign of fascist violence. Aside from a small contingent of committed activists, calls to show up and outnumber the Proud Boys and their coalition partners largely went unanswered.
Among the Lehigh Valley residents that Eckert bused to DC was Benjamin Jacques. Eckert and Jacques expressed their support for the Proud Boys — a far-right street gang — in the below screen capture from Eckert's November 14th Facebook post. Not only did Eckert and Jacques express support, they admitted interest in starting a local chapter and went as far as e-mailing the Proud Boys organization. Eckert suggested that Jacques (a graphic designer) begin work on a flag design for their "division."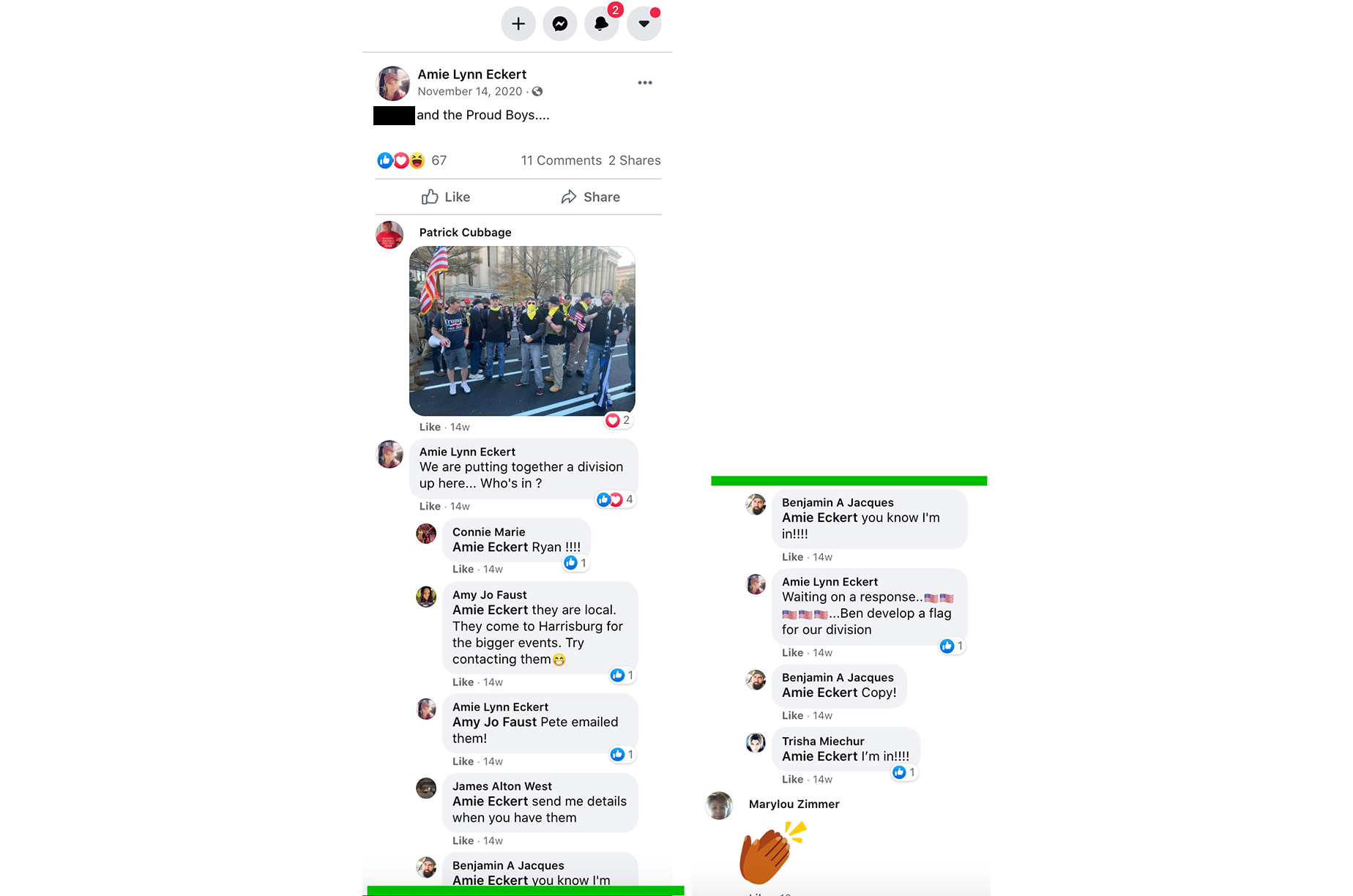 Not only did Eckert and Jacques communicate with Proud Boys online, they actually formed real life connections at the December 12th "Million MAGA Rally." Take for example, Jacques' Dec. 12 Instagram post featuring a photo from this event. In the photo, Jacques poses with a unit of Proud Boys and other far-right street brawlers in full tactical gear. Included in this photo is Philadelphia Proud Boys President Zach Rehl, who was captured on video repeatedly as he helped direct the fascist coup on January 6th. Also in the selfie is Dion Cini, a far-right provocateur with ties to neo-Nazis who actually breached the US Capitol Building at the aforementioned coup. A third person posing for the selfie is Philadelphia Proud Boys Vice-President Aaron Wolkind-Whallon. All three men display the "white power okay sign" in Jacques' selfie.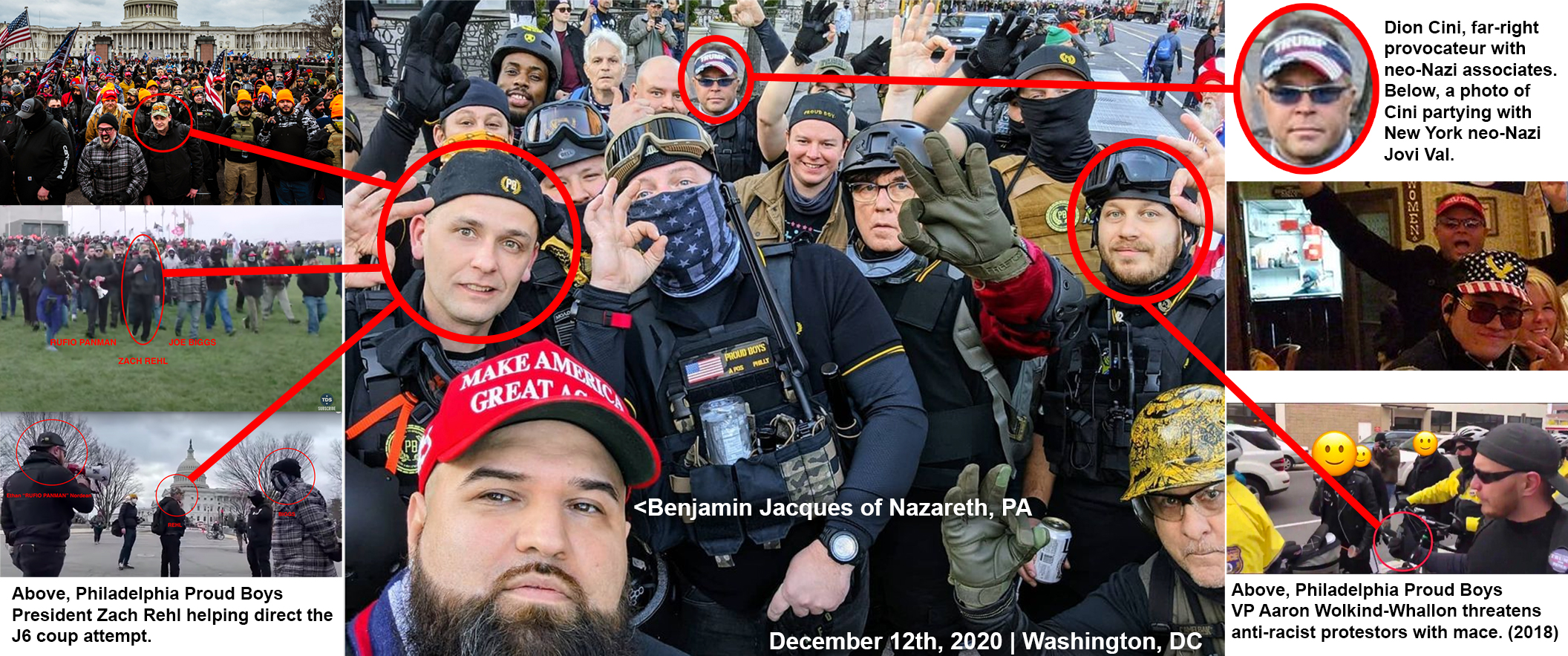 We know that Eckert marched the streets of DC threatening anti-racist activists with members of the Proud Boy street gang because she live-streamed it to her Facebook profile. In the video below, you can actually see the moment that Benjamin Jacques asked these Proud Boys for a selfie.
In another live-stream from December 12th, members of Eckert's crew walk past the US Capitol Building and discuss the police presence. One man asks "Do they really think we're gonna rob the Capitol?" to which a second man replies "Well, we won't today. But we might."
As the video above implies, these November and December "Million MAGA Rallies" can best be understood as dress rehearsals for the fascist coup attempt at the Capitol on January 6th, 2021.
Amie Eckert & the LVTP Charter Bus to January 6th Fascist Coup Attempt at US Capitol Building
On December 19th, 2020, Amie Eckert posted to her Facebook account imploring her followers to join her on the multiple buses she was organizing for the January 6th "Stop the Steal" rally-turned-coup-attempt in DC. Three days later, on December 22nd, the LVTP posted a flyer to their website and Facebook page advertising a bus charter to DC. It's clear that the LVTP's bus charter and Eckert's bus charter are one and the same because the flyer reads "Contact Amie ASAP: 484.626.2529." A comment on the LVTP Facebook post reads "Guns optional?"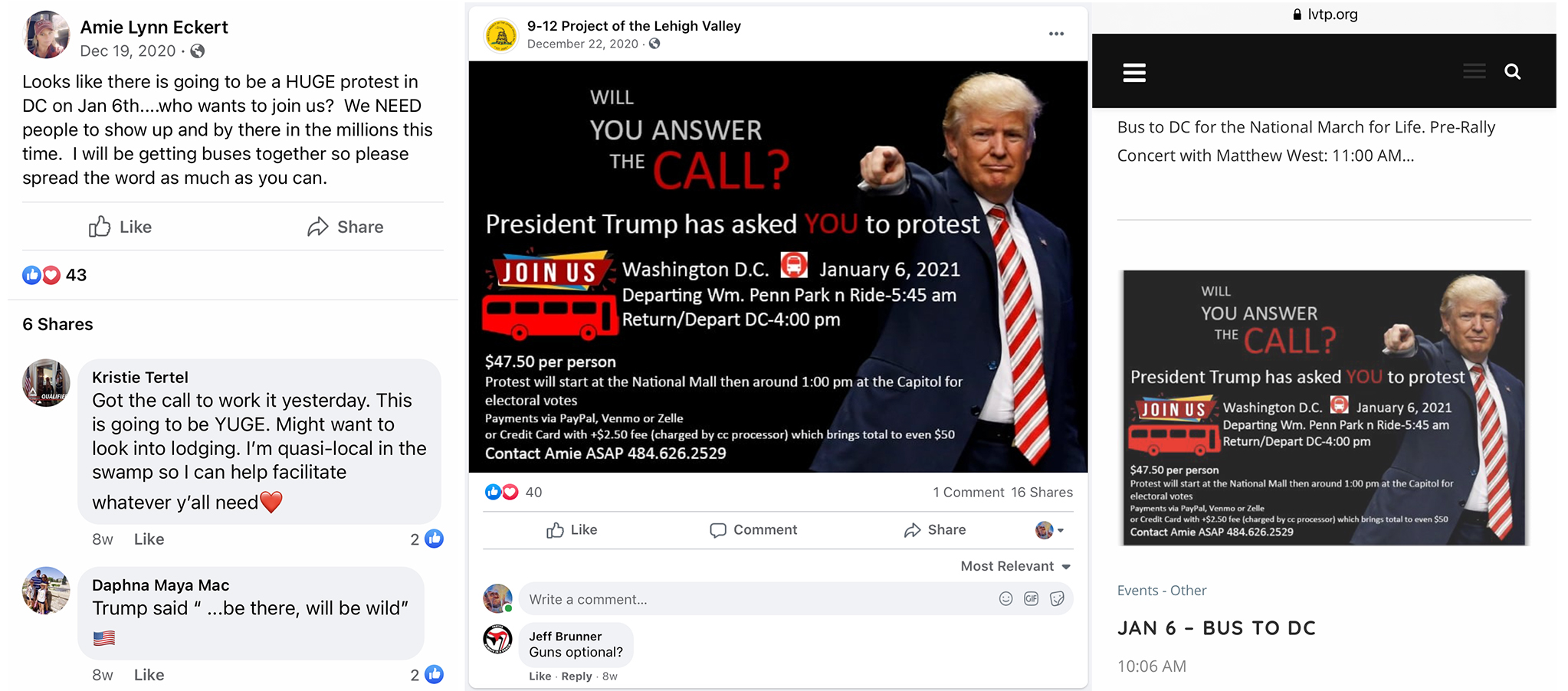 This comment serves as a good representative of right wing online chatter in the weeks approaching the January 6th coup attempt at the Capitol. And Amie Eckert's social media posts were no exception. Below are several posts from her Facebook account that indicate a militant disposition to the approaching event.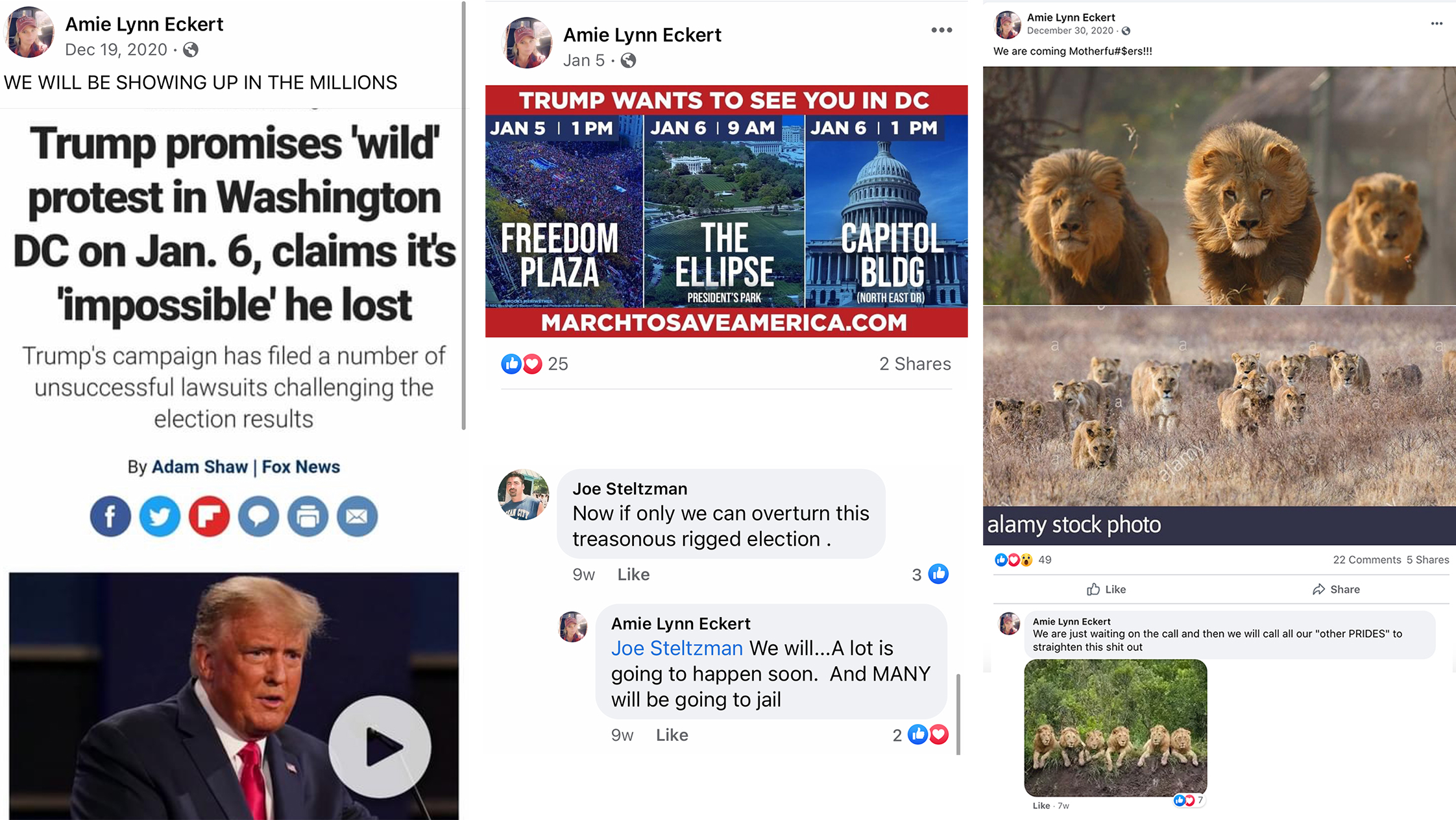 Most images and commentary about the January 6th coup attempt have since been removed by Eckert and her associates. However, we were able to capture comments by Benjamin Jacques which confirm Eckert and Jacques' J6 contingent were on the steps of the Capitol engaged in direct confrontation with Capitol police:
"We were on the front line… On the steps… We were tear gassed, pepper sprayed… peppered pellets."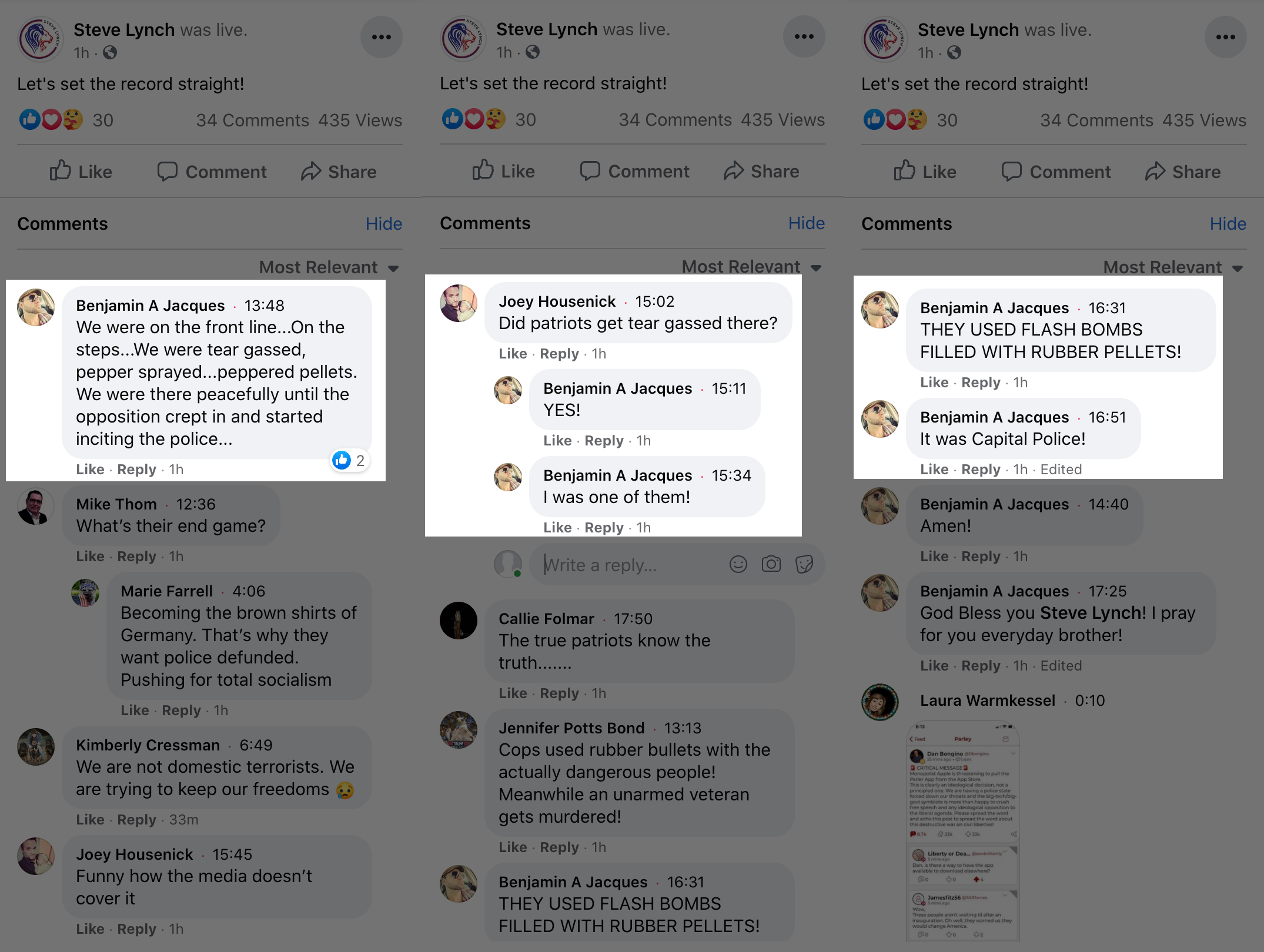 This next subject is incredibly sensitive, and we have done our best to handle it with care. We have never and will never post images of children; even images from violent, far-right political actions. That said, the information below is so egregious, we felt we had to address it.
Amie Eckert Brings Her Elementary-Age Child to Fascist Rallies, Child Streams Confrontation & Poses for Photo with Proud Boys
Unfortunately, Amie Eckert has made a habit of bringing her elementary-age child to the events described above. While we could not confirm that Eckert brought her child to DC on January 6th, it was very clear that Eckert brought them to the November and December "Million MAGA Rallies." In December, she actually allowed her child to live-stream their march with Proud Boys on the streets of DC.
During this live-stream (taken from Eckert's phone and broadcasting to Eckert's Facebook profile), her child wandered among a crowd of Proud Boys capturing video. It's important to point out that the Proud Boys have recently been classified a terrorist group by the Canadian government, and the FBI considers them an "extremist group with ties to white nationalism." After the crowd began marching, their group engaged in verbal altercations with DC residents; verbal altercations that the child engaged in personally.
In another video captured from her Facebook profile, Amie Eckert's child anticipated the antifascist presence in DC, saying "I think antifa is here if I'm not mistaken. Because there are so many cops coming up. I hope they're here." Offscreen, a man can be heard asking the child, "You gonna beat them up?"
The next topic is likely the most egregious action that Amie Eckert took in regard to her child at these fascist rallies. At the November 14th "Million MAGA Rally" in DC, she had her child pose for a photo with two Proud Boys in tactical street-fighting gear along with the text "(child's name) and the Proud Boys."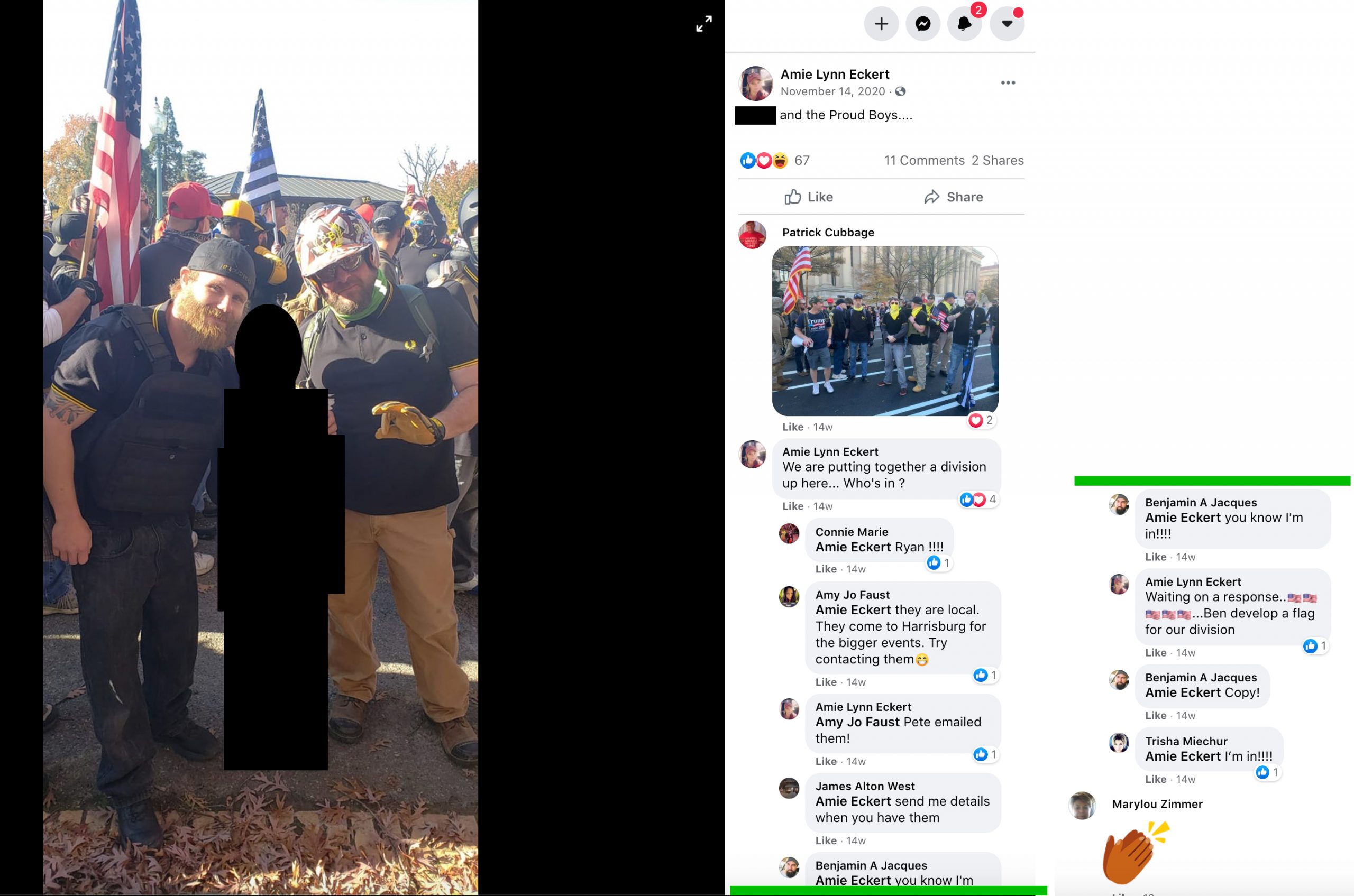 It's bad enough to personally throw one's support behind a fascist movement. It's bad enough to personally view white nationalist paramilitaries as one's friends. But to bring a child to fascist rallies where white nationalist paramilitaries engage in violence against local residents… the irresponsibility cannot be understated.
In Conclusion
Over the course of 2020, Amie Eckert rapidly radicalized around the MAGA movement. She organized events in support of this fascist movement. She was charged with harassing a political opponent at one of these events. She repeatedly posted racist, transphobic, and conspiracy-driven memes and messages on her social media accounts (see below). She organized bus charters to multiple violent, fascist rallies; including the January 6th coup attempt at the US Capitol Building. She brought her elementary age child to these events and had them pose with members of a far-right street gang. For all these reasons — in the interest of community safety — we have compiled this article, as well as the information below.
Additional Information:
Full Name: Amie Lynn Eckert
AKA: Amie Yankowy
DOB: 4/19/1976 (age 44 at date of writing)
Address: Bangor, PA
Facebook Account: https://www.facebook.com/amie.eckert.5
(Another FB, possibly linked to business account: https://www.facebook.com/pete.sells99)
Political Groups and/or Movements: MAGA, Patriot, Tea Party
Business (co-owner): Carera Organix in Nazareth
Business (co-owner): farm & table in Nazareth
Additional Images: